Hey there!
Hope you had a fabulous Christmas - if that is your thing, and if not, I hope you're just generally having a lovely time anyway.
It's taken me longer to get this post done than I'd hoped. Perhaps I was too optimistic. Big changes are happening here - we are moving to a new place in the new year!
We've had the real estate agents come to take photos to put this place on the market, and I've been busily getting everything super tidy and keeping it that way. Boy, does that ever cramp my style! I haven't done any sewing because the creative process generates a bit of mess. And although I acknowledge that the flat looks much more spacious when I'm not knee deep in fabric, I really don't get why anyone would want to live that way. I am deeply suspicious of anyone who doesn't have at least one hobby. And I am suspicious of show towels. I just don't comprehend them either.
Anyway, after much reflection on the best way to explain this project, and much resolve to get the silly thing finished, despite turkey-induced lethargy, I've decided to break it down into 3 parts. First, an overview of the pattern pieces and simple cowl dress, then an explanation of how I created the asymmetrical neckline and gather from the simple cowl, and finally some notes on construction.
The upshot is, there are 3 pattern pieces in the simple design, and a small strip of binding for the back neck. It consists of a front, back and sleeve pattern, and the sleeve is of course optional. The front is adapted for the 'Asymmetrical Cowl and Gather Dress', which I will explain in the next post.
I had already made the cowl shirt, and because I had done that, it was a really straight forward step to create a dress from it. Generally, if you have a stretch t-shirt pattern, it's straightforward to create a dress pattern.
Are you ready for this? Hold onto your seats and pay attention!
You need.
Simple Cowl Tee pattern.
Basic Skirt pattern
.
Instructions.
1. Match the waistlines of your basic skirt and cowl tee shirt pieces, and trace.
Do the same for the back. I'm only showing the front, but hey, it's exactly the same process.
2.
Add darts in the back (optional).
That's it. You have a basic dress with a simple cowl neckline. You can use it just like that if you want. You can add sleeves if you like - they're straight from my Simple Cowl Tee too.
If your existing tee already touches the hip, you don't even need the simple skirt pattern. You can just add length. Measure from waist to the length you want your hem to sit, add on that length, plus the hem.
You can do this with any basic t-shirt style top pattern that you'd want as a dress. Make sure it's wide enough for your hips and you'll be fine.
If that seems like too much of a struggle, I found this nifty
free downloadable
from
ichigogirl
on
BurdaStyle.
It is only in a size 36, and you need to stick the pieces together.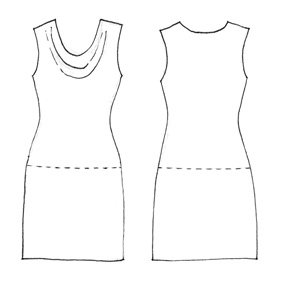 You could also grab a simple pattern like this one.
I haven't used this pattern. But I am fond of Kwik Sew, and I know that heaps the clothes my mum made from me - particularly my leotards came from basic Kwik Sew patterns adapted into a myriad of different designs - Mum and I would pick out the craziest fabrics. They have a good range of sportswear stuff, and practical simple stretch designs, and lingerie including bras - which are difficult to come by in the world of big commercial patterns.
I digress. Simple cowl dress sorted?
Cool. Stay tuned!